Loverboy's "Sweetheart"
Sweetheart was one of our favorites from the time she was born. Although, we had not decided on the keeper at that piont. Her young life has had some rocky roads. On September 13th, my husband went to the kennels to check on the pups. He notice the kennel had been broke into and Sweetheart and one of her brother's were missing. Despite the vedeo system we installed the thiefs had over looked the obvious. Tyrone searched a full day, until he found the thieves, after anger outbrust, conflictions among Tyrone and the thief. The pups were discovered in Anderson, SC. They were returned to us the following morning. Sweetheart found a place in our hearts and in our home from that day on. The decission on whom would continue our 3rd generation was made.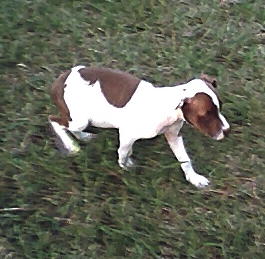 Sweetheart
3RD GENERATION LINEBRED

Born: June 29,2003

Reg: ADBA

Color: White with chocolate markings/chocolate nose

Sire: Loverboy's Cedar "Chips"

Dam: Loverboy's "Pebbles"